A.R.T.T.V.
DV video / 13:35 min. / col. / stereo / 2021
the famous art home shopping channel A.R.T.T.V. presents an exclusive offer for this twelve piece "Assemblage Set Surprise"
Don´t miss this unique opportunity …
Ralph Michael Serafin & Eva-Maria Perzold, two top moderators and experts in art accompany you through this mission
it will change your life
this video work has been created in context of the mail art project "surprise-surprise"
for the online exhibition at Atelier Grammophon in march 2021
– unfortunately in german only, no subtitles –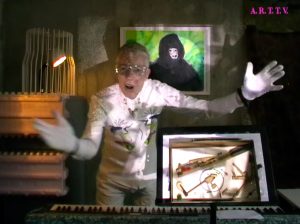 By continuing to use the site, you agree to the use of cookies. More
The cookie settings on this website are set to "allow cookies" to give you the best browsing experience possible. If you continue to use this website without changing your cookie settings or you click "Accept" below then you are consenting to this.